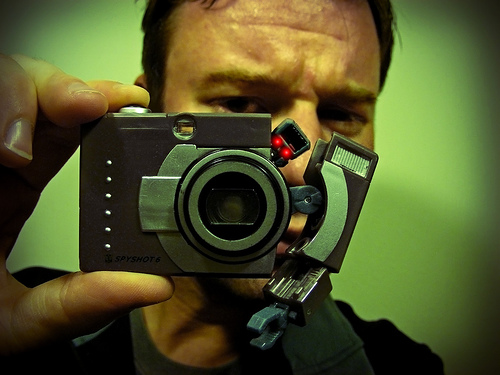 For those of you who have been living under a rock for the past decade, Flickr is perhaps the largest picture hosting and sharing community on the planet. As a user, your cumulative collection of uploaded images is called your Photostream. We'll now examine who the typical users are, and what kind of pictures they take.
1. The Smartphone Afficionado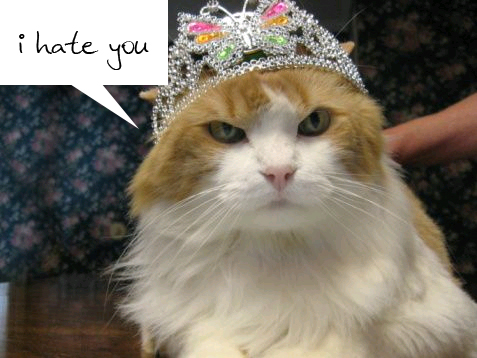 You just got your first phone with a decent image sensor and less than optimal software. You are most likely a twenty-something female, excited to show the world pictures of your kitty eight times a day, but you can't figure out how to turn the automatic flash off. It doesn't matter because all your friends love how cute "Princess" looks with her little tiara. Your photostream consists primarily of cat pictures, and the occasional teddy bear. You love Grey's Anatomy.
2. The Narcissistic Teen
You ditched puberty real early. Pimples and crackling voice boxes are a thing of the past. You're a beautiful metro sexual butterfly that just came out of your 11th grade cocoon and it must be made public. For your birthday, your Mom bought you a Canon Rebel T2i with the 18-55mm kit lens. Now you've got a tripod set up in every room of the house. You set the timer to 20 seconds so that you can fully get into character before the shutter snaps. You remember to do an extra set of push-ups before each shot, and flex the biceps as you're brushing your teeth. You never look directly at the camera because you're pensive and enigmatic. You're a master of the hands-free hair-flip to the side.
3. The Macro Junkie
You push pencils in a tiny cubicle and don't speak to anyone at work. Your best friends are flowers and bees, because they don't yell at you or make you stay late to finish up reports so that they can go golfing with clients. You live alone in a small apartment with your goldfish and maybe your mom. You go to the park every chance you get to take pictures of the small worlds that fascinate you so much. You secretly hope pretty girls passing by will find your hobby quirky and interesting, but the pizza stain on your t-shirt is working against you. You own the director's cut of Lord of the Rings and Harry Potter.
4. The Street Photographer
You just moved to Williamsburg, Brooklyn from Anytown, USA. You've always wanted to live in the Hipster capital of the world, because everyone back home was so lame. You cashed in on your trust fund and picked up a Leica X1 because it looks really vintage and matches the new image you're aggressively trying to adopt. You shoot in automatic mode because "its not about the details, its about the moment". The manual got lost under the pile of dirty socks you call your pillow. Your photostream consists of blurry half-framed faces, sneakers and street lamps. You make your girlfriend pose next to graffiti filled walls. Your fake hipster friends tell you you're really good and you believe them. You own a pit bull that you've never bathed.
5. The Compact Conquistador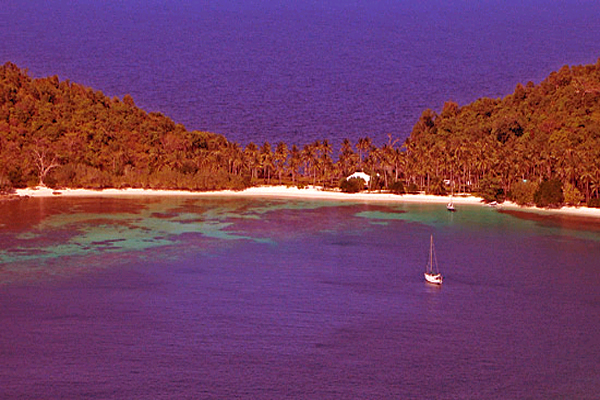 You like to travel a lot. And when you do, you never forget your Sony Cybershot. Your goal in life is to capture the next ultimate desktop wallpaper. You snap picture after picture of beaches, mountain ranges, and sunsets, and post them on Flickr and Facebook simultaneously. But your white balance was changed to Incandescent by your more photo-savvy co-worker during last year's Christmas party and the sneaky bastard never set it back. So all your sunsets and beaches look like they're in a fiery pit from hell, but you tell yourself you're pleased and that its the look you're going for. You sip wine with your pinkie sticking out.
6. The Poon Hound
The recession hit you the hardest. You had to give up cable, the Mercedes and your subscription to many a porn site. You don't even own a camera, but that doesn't stop you from making your own galleries in Flickr with other's people's nudie pics. You archive semi-smut on a daily basis because its better than drinking. Your wife has no idea because you do it at work, but your teenage son cracked your password and shares the pics with his friends. The neighbor's daughter thinks you stare at her.
7. The HDR Grease Monkey
Your favorite movie of all time is the original Fast & The Furious, and when you're not adjusting your car's air-fuel mixture or valve timing, you're taking pictures of it by the shore with your other tattoo-clad friends. You love making over-saturated, unrealistic pictures of your car with wide angle lenses, but you keep scraping your elbows on the tarmac when you take all those low angle shots. I guess its a small price to pay for fine art. In your spare time, you superimpose the "Car & Driver" logos on your pictures to make them seem like magazine covers. Your girlfriend can beat you up.
8. The Cuisine Connoisseur
The only thing that brings you more pleasure than cooking is capturing your edible creations forever. You take great pride in making everything look as good as it tastes. You're also mildly sadistic, because my mouth is watering right now, as I browse through your photostream. Thanksgiving isn't a holiday at your house, its a way of life. The license plate on your Dodge Durango reads "NO1MOM".
9. The Superfluous Strobist
You read somewhere that lenses don't matter, as long as the proper lighting is abundant. You went to B&H and you spent an engagement ring's worth of money on speedlights, monolights, and light modifiers. You visit Strobist.com and DPReview.com religiously. You turned your garage into a photo studio, but your beer-gut and receding hairline scare away all the pretty young girls you want to put on magazine covers. You finally get a couple to pose for you, and post every single over-exposed picture you've taken to Flickr. The young girl unfriends you on Facebook. You use to wear Superman underwear as a child.
10. The Fisheye Fanatic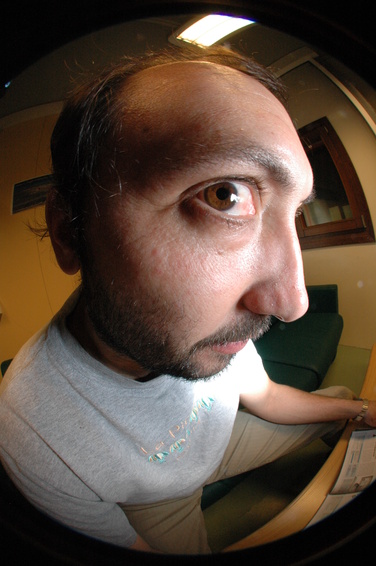 You grew up in the 90′s and you believe everything should look like a Busta Rhymes music video. (Nothing against Busta. I love that video) For you, it doesn't matter if you're taking pictures of people, buildings or cupcakes. If it doesn't look like its going to explode, it ain't cuttin' it. Your stereo volume is always set to "Bleed". You like your coffee with Mountain Dew and Crack Rock.
Disclaimer: This is by no means a definitive guide to Flickr. Although I'm poking fun at all these users, I have been all of these at some point, so I'm allowed. (except for the part where i share porn with my son.)