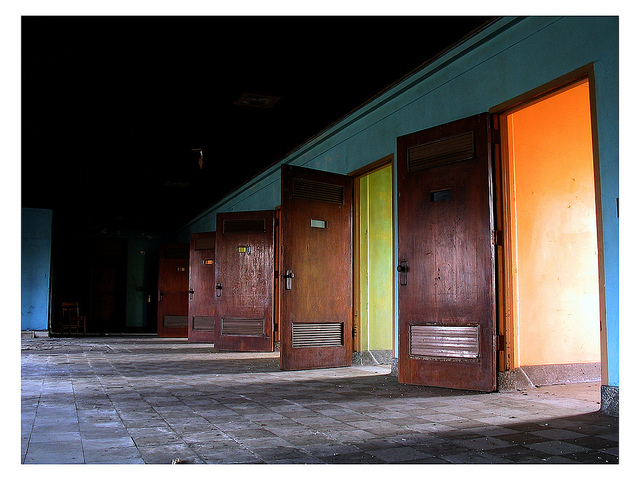 Have you ever exchanged words with a lawyer? Sure you have. We all have at some point. Whether it was to set up that restraining order on your crazy ex, or to plan the defense for your narcotics/manslaughter trial, you've probably conversed with legal counsel. And what do you make of lawyers? The general consensus is that they're heartless, greedy, suit-type squares. Creative and Artistic are not usually attributes associated with lawyers, but fellow Queens resident Doug breaks that mold.
"There are two things I enjoy about photography. The first is exploration. When you're on the quest for beautiful images, you go places that you would not normally go, and you look for things that you would not normally see. Photography is about the exploration and discovery of light, shadows, reflections, and symmetry. Some people say photography is a means of expressing one's self — but for me its the opposite. It's about being alert to external subtlety. taking the world in. Capturing photos is a passive activity. It is about deference to the mechanics of nature."
For someone who hasn't had formal training in art or photography, Doug has one of the most keenly trained eyes I've seen. (Some people say he may have two) His shots excite the right brain with unique perspectives, vivid colors and delicious textures, while his sense of space, and superb geometric composition appeal to the orderly left brain.
He is originally from Connecticut, but went to boarding school at the New York Military Academy in Cornwall, NY. Doug's infatuation for photography started there. He purchased a modest, 3.2 MP Canon Powershot A70 and began to explore the world around him. It was with this small camera that Doug shot what is still his favorite picture to date, and the lead shot for this article.
"…I think this hospital ward is the best picture I've ever taken, if only because it was a total accident. I was basically pointing my little 3.0 megapixel camera at anything remotely interesting and hoping for a great result. In essence, I believe this is what even the best photographers are still doing – pointing, shooting, and hoping. If at first you do not succeed, try again."
His love for photography continued to grow during his college years at Lehigh University, where Doug's parents bought him a dSLR and 70-200mm lens. The upgraded arsenal eventually scored him a gig as the school's newspaper photographer and photo editor. After graduating college in 2008, Doug moved to Westchester and worked for 2 years at a private petrochemical trading firm. He took many pictures and rode his motorcycle a lot.
"…This partially explains why I went to law school: to pursue healthier thrills. To find intellectual and social stimulation. I sold my bike, moved to Fresh Meadows [Queens] and started at St. John's Law School in 2010."
When I asked Doug what would be one shot or subject that he would love to capture, his answer surprised me. He said his perfect photograph would have to combine the best elements of photography to "blow minds".The secret sauce for his mind blowing shot? 1 Part freezing a unique and rare moment in time, 1 Part powerful symbolism, 1 Part irony, 1 Part visual stimulation. Shake, enjoy. You've got your work cut out for you, Doug! Get to it!
Check out Doug's Photostream on Flickr to see how a lawyer can shoot better than many established "photographers".